GRAVITATION WATER VORTEX POWER PLANTS
CONFIGURATION AND FUNCTION
An essential component of a Gravitation Water Vortex Power Plant is a spiral rotation tank, which is placed in the sloping bank of the river. A River bottom step catches the river water, leading it sideways through a coarse screen and an open inlet-gate into the rotation tank.
The diagonal run of the river bottom step directs fish upstream to the rotation tank and upstream through the Gravitation Water Vortex Power Plant .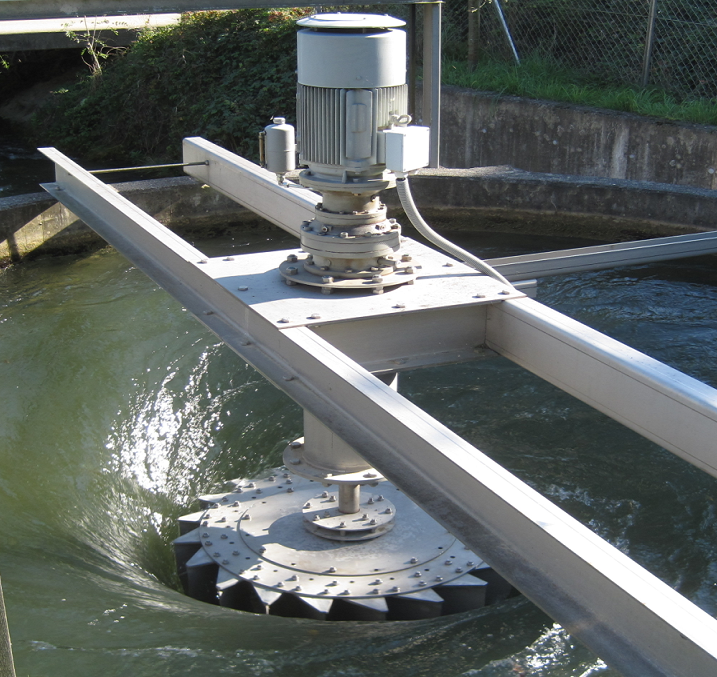 In the rotation tank a Gravitation Water Vortex gives power in its centre to the Zotlöterer-turbine, above which an electric generator is connected. Below the turbine and the rotation tank the water flows back to the river.
So after the installation of a Gravitation Water Vortex Power Plant the river water does not flow unused over an existing river bottom step, but it bypasses the river bottom step and flows through the GWVPP to generate green electricity.
In line with the objectives of the European Water Framework Directive the reservoir area will be retained and there is no additional residual flow stretch in the river. Fish can migrate upstream and downstream through future Gravitation Water Vortex Power Plants which will be installed at existing weirs.
We will support you with consulting and planning and during project realisation.