BREAKING NEW GROUND IN HYDRAULIC ENGINEERING
In the past centuries rivers were regulated to achieve settlement and protect the area from floods. The accelerated runoff of water from landscape leads to erosion of the riverbnaks and bed contours. As a countermeasure and for water retention in the region obstructing features (weirs, river-bed constructions) were built.
Since 2000 the European Water Framework Directive, dictates that these obstructing features must be dismantled or must be made navigable for migrating fish by additional fish passes. Additional broadening (rehabilitation) of rivers financed by public money reduce the water level and raise up the water temperature, increasing the growth of algae in the summer months, which leads to increased fish mortality. The fisheries authorities try to compensate with an additional artificial fish stocking.
A sustainable option to stimulate the natural fish population in regulated rivers offers Gravitation Water Vortex Power Plants at low weirs. Gravitation Water Vortex Power Plants aerate water, can be migrated past by fish, generate green electricity to fund themselves and make a contribution to environmental protection.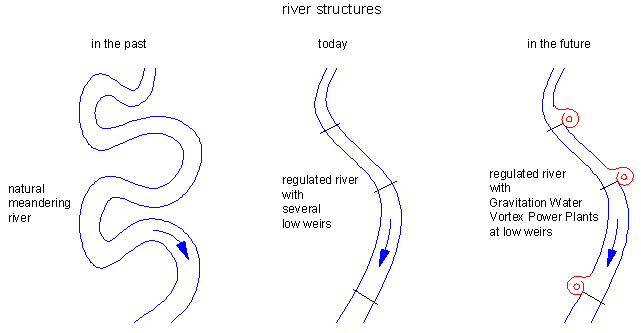 If you want to strengthen the self-cleaning power of the rivers in your region as well as increase the fish population and also want to generate local green electricity, please contact us.
The sustainable river ecological measures proposed by us have been awarded several Energy Globe Awards.