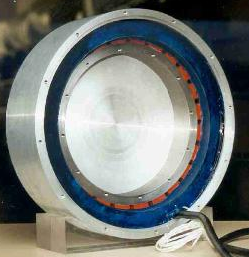 Generators convert mechanical energy into electrical energy. Depending on the application, asynchronous or synchronous generators have some practical advantages.
Asynchronous generators are very robust, durable and suitable for direct mains parallel operation.
Separately excited synchronous generators are suitable for stand-alone operation or for the mains parallel operation.
Permanent magnet synchronous generators can feed at variable speeds over a line-commutated inverter into the public mains. A targeted braking of a rotor or a turbine is possible with a permanent magnet synchronous generator.
Ring generators are designed as separately excited or permanent magnet synchronous generators and suitable for slow speeds.
Ironless permanent magnet synchronous machines enable a cogging free start with an unloaded generator.

Regardless of the type, the generator must be as large as possible and on the other hand, the generator's internal resistance must be as small as possible, and thus the length of the winding wire as short as possible for high generator efficiency. On the one hand the generator speed as high as possible and/or the generator diameter.
Let us know your requirements for your intended generator concept - we are available for consultation, planning and project implementation at your disposal.