GRAVITATION WATER VORTEX POWER PLANTS
are suitable to power single or multiple family houses, companies and technical facilities.
enable the previously unused hydropower potential at countless low transverse structures of our running waters to be tapped in accordance with the European Water Framework Directive.
are integrated almost inconspicuously into embankments and leave the watercourse in its present form.
Fish can migrate upstream and downstream.
generate water-specific small organisms and fish.
Technical data of our 10kW-Gravitation Water Vortex Power Plant at Ober-grafendorf in Austria:
Head: 1,5m
Flow rate: 0,9m³/s
Efficiency of turbine: 80%
Electrical power: 8,3kW
Annual working capacity (depending on the local and yearly variable rain fall): around 55.000kWh
Construction costs (in 2005): 60.000€
Operation monitoring: Webcam
Maintenance effort: Annual oil change

Electric power of a hydro power plant is calculated by flow rate, head and total efficiency factor. Usually a hydro power plant is designed for 5000 equivalent full load hours each year. So the annual working capacity can be estimated by the electric power and the equivalent full load hours.
We will support you with consulting and planning and during project realisation.
To confirm the diagram above with the annually outputs, we want to show you the official energy output (our green energy purchaser is OeMAG) of our 10kW-GWVPP from the last years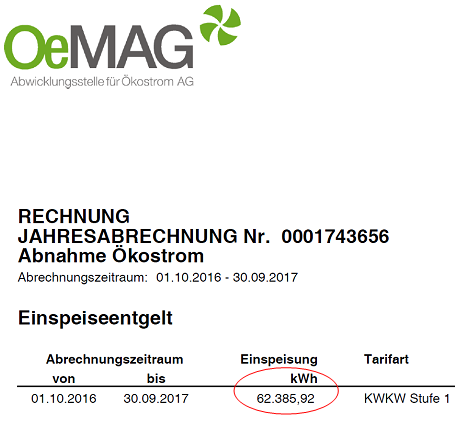 From October 2016 to September 2017 a high green energy output with 62.385kWh was generated: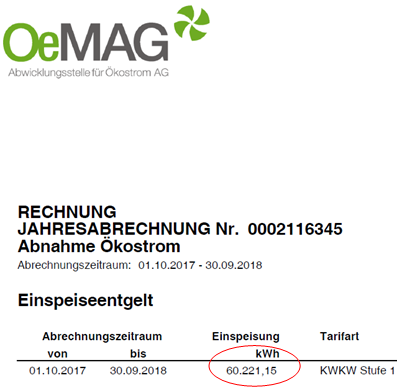 Even in the 12th year of operation with low rain in the summer 2018 more than 6000 equivalent full load hours could be reached with our 10kW-GWVPP from October 2017 to September 2018: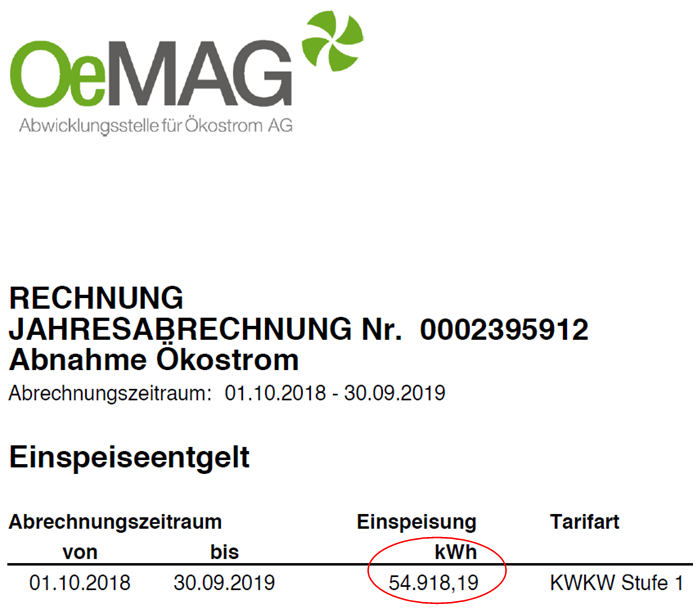 The snowy winter of 2018/2019 was followed by a period of very low precipitation in the Pielach valley, which lasted until the end of 2019. In this respect, from October 2018 to September 2019 there was a slightly lower energy output of 54,918kWh:
Conclusion - a correct dimensioned and installed GWVPP accomplishes a good utilization with 5000 (or more) full load hours each year like a correct dimensioned and installed conventional hydro power plant.