GRAVITATION WATER VORTEX POWER PLANTS
are suitable to power single or multiple family houses, companies and technical facilities.
enable to use of unused hydropower potentials at innumerable river gradient steps and in accordance with the European Water Framework Directive.
are upstream and downstream navigable for migrating fish.
need no large dams or embankment constructions.
provide an additional living space for river specific aquatic plants, microbes and fish.
Technical data of our 10kW-Gravitation Water Vortex Power Plant at Obergrafendorf in Austria:
Head: 1,5m
Flow rate: 0,9m³/s
Efficiency of turbine: 80%
Electrical power: 8,3kW
Annual working capacity (depending on the local and yearly variable rain fall): around 55.000kWh
Construction costs (in 2005): 60.000€
Operation monitoring: Webcam
Maintenance effort: Annual oil change

Electric power of a hydro power plant is calculated by flow rate, head and total efficiency factor. Usually a hydro power plant is designed for 5000 equivalent full load hours each year. So the annual working capacity can be estimated by the electric power and the equivalent full load hours.
We will support you with consulting and planning and during project realisation.
To confirm the diagram above with the annually outputs, we want to show you the official energy output (our green energy purchaser is OeMAG) of our 10kW-GWVPP from the last years:
Energy output with 50.911kWh in a season with very low precipitation from October 2014 to September 2015.
Also the energy output with 63.581kWh from October 2015 to September 2016 is a good seasonal result.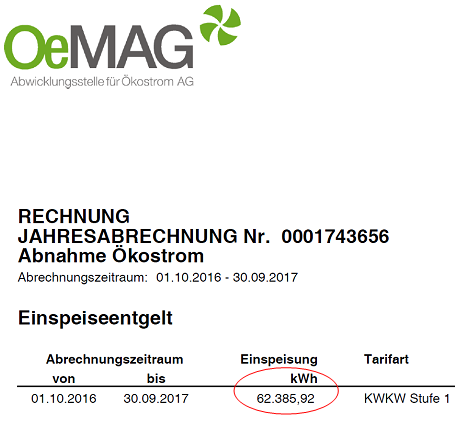 Even with low rainfall in summer 2017 our 10kW-GWVPP generates a high green energy output with 62.385kWh from October 2016 to September 2017.
Conclusion - a correct dimensioned and installed GWVPP accomplishes a good utilization with 5000 (or more) full load hours each year like a correct dimensioned and installed conventional hydro power plant.