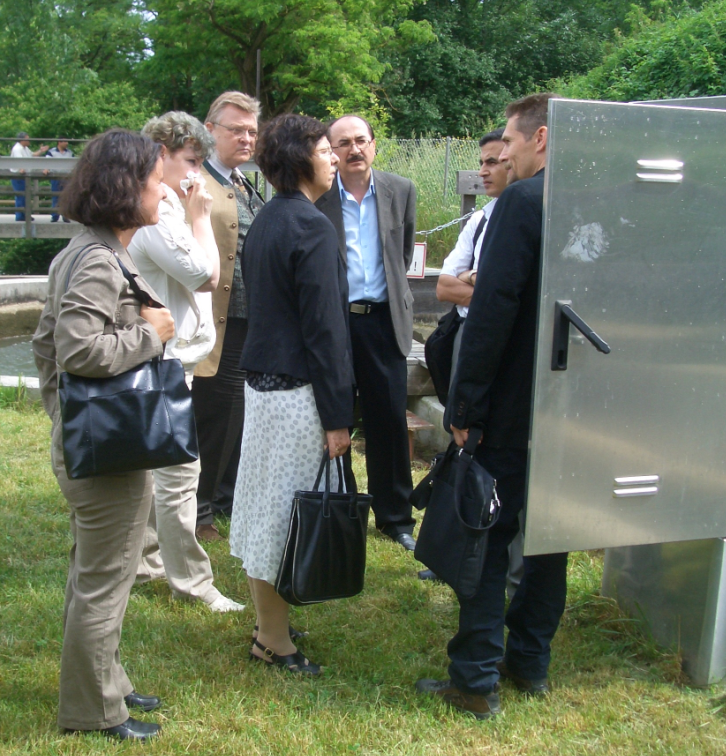 Since 2006 we made guided tours for interested visitors from all over the world to our Gravitation Water Vortex Power Plant (GWVPP) and small wind turbine in Obergrafendorf (Lower Austria). The people can see that self-supply with local green energy does not need great efforts.
At national and international conferences we could successfully present our small hydro power and wind turbine systems:
"Renewable Energy Conference" in Warschau (Polen) at 4. Dezember 2013
"Kleinwasserkraft-Konferenz" in Salzburg (Austria) am 29. November 2012
"Kleinwasserkraft-Konferenz" in Bukarest (Rumänien) am 24. November 2010.
"Gravitationswasserwirbelkraftanlagen" Präsentation im Off. Cas. Am Stollen 19 in Goslar (Niedersachsen) am 7. März 2008.

"Gravitationswasserwirbelkraftanlagen" Präsentation im Naturpark Informationshaus Zwiesel (Bayern) am 15. Februar 2008.

"Nachfragegerechte Stromversorgung: Vielfältige Chancen für die Wasserkraft" Fachtagung der Arbeitsgemeinschaft Alpine Wasserkraft und der 96. Hauptversammlung des SWV (Schweizerischer Wasserwirtschaftsverband) in Glarus (Schweiz) am 6./7. September 2007.

"Energie aus Wasserkraft - wie sieht die Zukunft aus? - Die Wasserrahmenrichtlinie und ihre Umsetzung in Ö/NÖ" Podiumsdiskussion von Pro Niederösterreich im Donaukraftwerk in Ybbs (Niederösterreich) im Mai 2007.
"Fünfte internationale Energiewirtschaftstagung" Konferenz an der TU Wien (Österreich) im Februar 2007.
"Neuntes internationales Anwenderforum für die Kleinwasserkraft" bei OTTI in Kempten(Süddeutschland) im September 2006.

"Lebendige Flüsse und Kleinwasserkraft" Konferenz der DUH (DeutscheUmweltHilfe) in Plochingen bei Stuttgart (Deutschland) im April 2006.
Publications in specialist books and professional journals:
Technische Fachmagazine berichten über GWVPPs:

Wasserkraft & Energie 3_2013 (Deutschland, August 2013).

PRIORITA - www.opzp.cz (Tschechien, Mai 2013)

ZeK - Ausgabe 5_2012 (Österreich, July 2012).

electrosuisse-Bulletin - Ausgabe 2_12 (Schweiz, Februar 2012).

Zement + Beton - Ausgabe 3_11 (Österreich, August 2011).

Wasser Energie Luft/Eau éhergie air/Acqua energia aria 4-2007 (Schweiz, Dezember 2007).

KIJK Magazin (Niederlande, Jänner 2007).

Österreichisches Industriemagazin (Juli/August 2006).

P.M. Magazin (November 2006).

e.l.b.w. Umwelttechnik (März 2006).

ZeK - Ausgabe 2_ 2006 (Österreich, February 2006).

Fischermagazin (Jänner 2006).

aqua press (Jänner 2006).

Tagungsband zum neunten internationalen Anwenderforum für Kleinwasserkraft in Kempten (September 2006, ISBN 3-934681-47-6, Seite 108-112).
As inventor and developer of Gravitation Water Vortex Power Plants (GWVPPs) we are honoured with national and international awards.
Winner of the contractor award "Move On NÖ Plus 2011".

Winner of the Energy Award Switzerland Watt d'Or 2011 (for our old GWVPP-turbine design).
Winner of the Special Energy Globe Award Austria 2010 for the best invention
Winner of the Energy Globe Award Niederösterreich 2010.

Nomination to the Energy Globe Award Austria 2007.
Winner of the Energy Globe Award Kärnten 2007.
Innovation Award at the Genius Award 2007 in Wr. Neustadt in Niederösterreich and Winner of the Special Award about "Environmental Technology and Renewable Energy".
Double nominated for the AUSTRIAN NEPTUN WATER AWARD 2007 in the categories WasserSchutz and WasserWelt in March 2007.

Nominated for the AUSTRAN NEPTUN WATER AWARD 2005 in the category WasserVision in March 2005.